Aerospace Cubicle Engineer (ACE)
Moderator
The Senior Bowl announced this year's Hall of Fame class, which includes Patrick Surtain, Joe Staley, Reggie Wayne, Cam Jordan, and Gator Great Fred Taylor.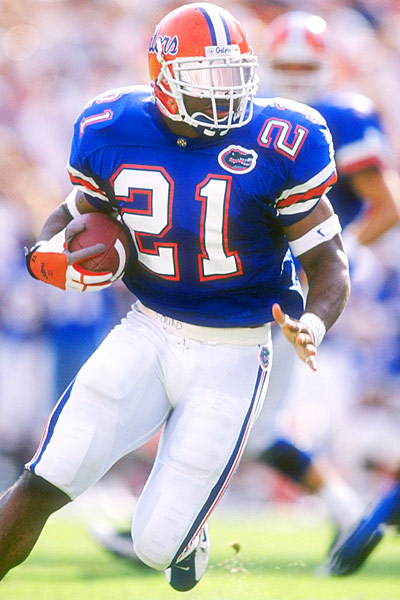 #21 Frederick Antwon Taylor hails from the Gator talent hotbed Pahokee, Florida, where he initially played linebacker before switching to tailback. By the time he arrived in Gainesville to play for Steve Spurrier's Gators he was an already accomplished running back, having been named to the FHSAA "Top 100 Greatest Players" list. Fred immediately made an impact on the Gators with his unique blend of size, agility, and power, helping them win the Bowl Alliance National Championship in 1996 and earning himself 1st-team All-SEC honors, Walter Camp All-American recognition, and team MVP selection. He was a key member of the 1996 Bowl Alliance national championship team, and three SEC championship teams. He was so good that he helped usher fellow running back Elijah Williams to switch to defensive back. He is the #4 in school history with 3,075 yards, and 31 touchdowns.
Fred was a first-round pick by the Jacksonville Jaguars in the 1998 NFL Draft. Fred played with the Jags from 1998 to 2008 before spending the last two years of his career with the New England Patriots. He was a selected to the Pro Bowl in 2007, and was inducted to the Pride of the Jaguars ring of honor in 2012.
His impact on Gator lore was enough for him to be inducted into the Florida-Georgia Hall of Fame in 2008 and the University of Florida Athletic Association Hall of Fame as a Gator Great in 2010. His son, Kelvin, joined the Florida Gators in 2013 after a successful high school career where he broke fellow Gator Emmitt Smith's high school records that had been standing since 1986.